From 18.05.2021 to 20.05.2021, the exhibition "Zaporozhye Industrial Forum – 2021" was held in Zaporozhye.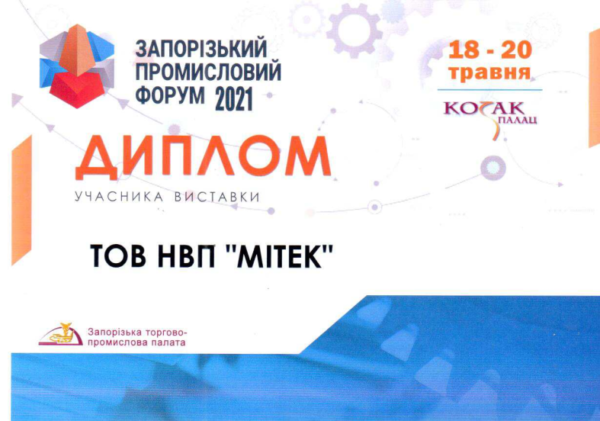 For "MITEK", the purpose of the exhibition was to hold scheduled meetings with representatives of the companies SE Giprokoks (Kharkov), VPI GIPROPROM LLC, PJSC "Titan Institute" (both from Zaporozhye) to discuss further cooperation on new projects, developing new ideas and exchanging experience with professionals, introduction of exhibitors to the products of "MITEK", exchanging contacts with potential customers and partners, increasing the recognition of "MITEK" trademark through oral presentation of the company and delivery of promotional material.
Regularly participating in the exhibition "Zaporozhye Industrial Forum", RPE "MITEK" LLC maintains the reputation of a successful organization and a stable business partner. This time, most of the guests who visited the stand of RPE MITEK LLC were already familiar with the principle of operation of our equipment, and only for some visitors the magnetic-impulse equipment became a discovery. An active dialogue was held with the representatives of design organizations, road maps for promising cooperation on the implementation of a number of projects planned for the future were determined.
Despite the difficult epidemiological situation associated with the threat of of the COVID-19 coronovirus infection spread both in Ukraine and other countries of the world, most of the declared participants managed to attend this event, introducing visitors to their products and new developments.