Magnetic-impulse installations IM are widely used in the chemical industry. Many bulk materials used as raw materials or finished products in various subsectors of the chemical industry (organic and inorganic chemistry, pharmaceuticals, agrochemistry, ceramics, etc.) need additional stimulation when unloading from hoppers and transporting along the technological lines. For example, such objects are equipped with IM installations as:
cargo handling units for a mixture of mineral fertilizers and granulated blast-furnace slag;
hoppers with bulk additives;
chutes of the unit for drying-calcining of aluminium fluoride;
receiving hoppers of potassium chloride;
silos with soda;
storage hoppers of sylvinite ore;
installation of a fluidized bed;
supply hoppers with chalk;
zinc oxide silos;
Examples of equipping some production facilities with installations IM
In the manufacture of tires in Finland, a variety of pneumatic systems on zinc oxide silos have been previously used that have proven to be inadequate for efficiency and performance. Here are the photographs of the working bodies of these pneumatic systems: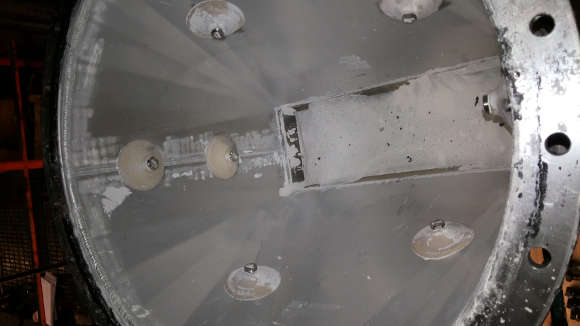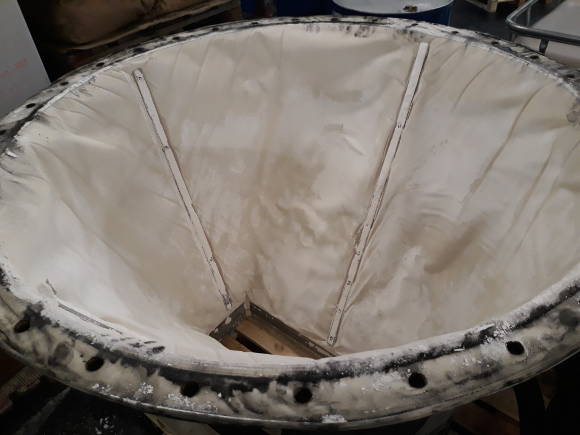 In 2017, low-efficient pneumatic systems were dismantled and replaced with a magnetic-impulse installation IM manufactured by RPE "MITEK" LLC:
Display of the operation of the installation IM at this enterprise: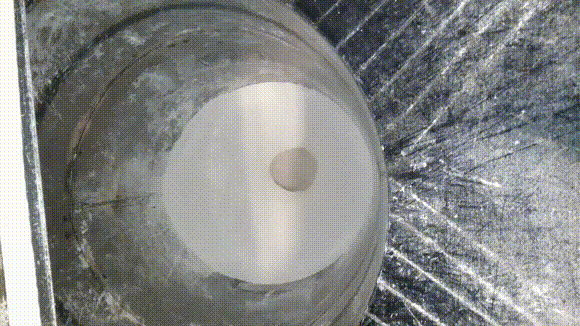 After evaluating the advantages of installations IM, the Customer decided to further equip zinc oxide silos with only our equipment. So, in 2018, another installation IM was purchased, and in 2021 a new silo was equipped with one of the channels of the previously purchased installation IM.
Magnetic-impulse installations IM:
ensure a sustainable release of material from equipped hoppers;
clean the walls of hoppers from adhered material;
provide efficient filter regeneration;
operation in an energy-saving mode, operating costs are minimal;
basically do not require reconstruction of hoppers when equipping them;
do not violate the integrity of the walls of the hoppers;
compatible with strain gauge systems for controlling the weight of material in hoppers;
comply with the requirements of the Directives and harmonized technical regulation of the European Union on electrical safety and electromagnetic compatibility;
applicable in hazardous areas of class 22, hazardous by ignition of combustible dust in accordance with the ATEX Directive;
easily integrated into modern automated process control systems;
reliable and durable (according to technical conditions – 10 years, in practice, some installations have already been in operation for more than 25 years).