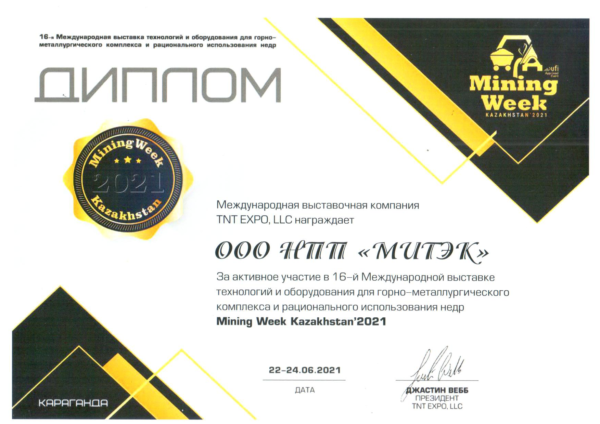 From June 22 to June 24, 2021, an international exhibition of technologies and equipment for the mining and metallurgical complex and rational use of subsoil was held in Karaganda, Kazakhstan. This exhibition is a key event for operators of the mining and mountain-metallurgical industries.
Among the participants of the exhibition were the representatives of "MITEK" enterprise from Ukraine, where the purpose was to present the company's products, obtain new contacts of prospective customers for magnetic-impulse equipment, brand awareness increase, as well as targeted meetings with existing partners.
During the event, we managed to exchange contacts with many visitors. Along with this, the representatives of RPE MITEK LLC took part in the official reception of the Honorary Consul of Ukraine in Karaganda, where the Ambassador of Ukraine to Kazakhstan was also present. The round table discussed road maps for promising interaction and cooperation.
Summing up the above mentioned, I would like to stress on the high professionalism of the organizers of "Mining Week Kazakhstan 2021" exhibition, as well as the optimal composition of the participants and visitors of the event determined by the industrial specifics of this region, where the improvement of mining industry is a strategically important direction for the development of the economy as a whole.
After the end of "Mining Week Kazakhstan 2021" exhibition, the representatives of "MITEK" company continued their work agenda. Having visited some production facilities of JSC "ArcelorMittal Temirtau" and Pavlodar alumina refinery of JSC "Aluminium of Kazakhstan", the employees of RPE MITEK LLC discussed a number of organizational issues as part of the further promising cooperation, and also presented information on magnetic-impulse installations among the management of departments of those enterprises where the urgent need to eliminate the hanging of bulk materials exists.